Randolph Trucking Utilizes SC Energy Conservation Financing Programs
Ridgeville, SC — Dorchester County
Randolph Trucking, with assistance from BDC, JEDA and South State Bank, Utilizes South Carolina Energy Conservation Financing Programs
Business Development Corporation (BDC) and South State Bank joined with the South Carolina Jobs-Economic Development Authority (JEDA) to help Randolph Trucking LLC expand its use of natural gas in its truck fleet through the use of two statewide energy conservation financing programs.
BDC, through the use of the Energy Efficiency Revolving Loan (EERL) program, assisted Randolph, a regional hauler of construction, demolition and agricultural materials, with a portion of the required financing and South State Bank provided the remaining portion. In both transactions, JEDA issued Qualified Energy Conservation Bonds (QECBs) through the South Carolina SAVES Green Community Program.
The QECBs and the EERL program both assisted the 75-year-old Gaffney firm in obtaining a significantly lower effective interest rate and a higher percentage loan to cost as it financed ten new trucks. The project includes a natural gas refueling infrastructure at its Ridgeville facility in Dorchester County.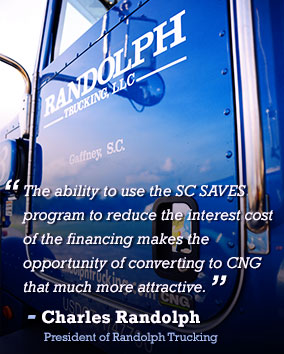 Randolph Trucking operates three locations in South Carolina and plans to convert its entire fleet from diesel to compressed natural gas. "Switching from diesel fuel to CNG fuel not only makes my trucking fleet more competitive, it also is good for the environment for South Carolina and for health and well-being of its citizens," said Charles Randolph, President of Randolph Trucking. "Also, the ability to use the SC SAVES program to reduce the interest cost of the financing makes the opportunity of converting to CNG that much more attractive."
The South Carolina SAVES program was established to expand institutional resources from regional and national funders to support energy efficiency retrofit strategies. The program is managed by Abundant Power Group LLC, an energy financial and technology services company based in Charlotte, N.C.
"The Randolph transaction is an example of how SC SAVES can work with existing financial institutions in South Carolina to provide innovative funding to further the policy of reducing energy costs and environmental emissions while improving the competitiveness of South Carolina business," said Abundant Power Group Managing Director Greg Montgomery.
Although JEDA and BDC are closely aligned through BDC's management of the SSBCI and EERL programs for JEDA, the venture marked the first time that JEDA and BDC have had the opportunity to assist the same business. "This is a unique new venture for our economic development community and we're excited to take part in it," said Edwin O. Lesley, President/CEO of BDC, a Columbia-based non-bank commercial lending company that specializes in providing unique lending solutions for its member banks. "BDC is very appreciative for the confidence shown in us by the South Carolina Energy Office and JEDA for allowing us to manage the EERL program on their behalf."
"Commercial loans like this are not usually undertaken by traditional lending institutions and the creation of the South Carolina SAVES program is creating a financing path for projects that are going to have a positive impact economically and environmentally," said Harry A. Huntley, CPA, Executive Director of JEDA in Columbia.