Porter-Gaud Fine Arts Center Construction
Charleston, SC — Charleston County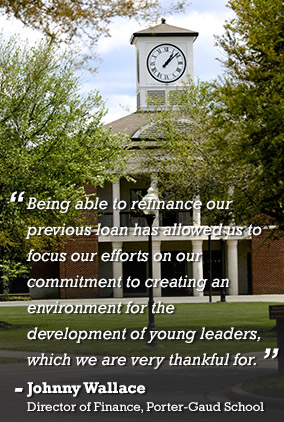 Porter-Gaud School is using $29.4 million and $6.2 million in tax-exempt and taxable revenue bonds, respectively, from the South Carolina Jobs-Economic Development Authority (JEDA) to finance new construction and refund a previous JEDA bond issue.
The Series 2014 bonds will be used to create a new upper school facility and fine arts center at the 150-year-old private school on the Ashley River. A portion of the Series 2014 bonds will also be used to reimburse a JEDA Series 2010 bond with an original principal of $21 million.
Porter-Gaud currently employs 250 people and the bond issue is expected to create five new jobs within 24 months of completion of the project. Approximately 950 students currently attend elementary school through high school there.
"Being able to refinance our previous loan has allowed us to focus our efforts on our commitment to creating an environment for the development of young leaders, which we are very thankful for," said Director of Finance for Porter-Gaud Johnny Wallace.
"We know the importance of school improvement for a community's ability to make a difference in the lives of the students, and we are honored to be a part of that," said Bond Counsel Sam Howell with Howell Linkous & Nettles, LLC in Charleston.
"Porter-Gaud has a played a large role in the education of South Carolinians for many generations and we're excited to help finance projects which help the school continue to educate students for generations to come," said Harry A. Huntley, CPA, Executive Director of JEDA in Columbia.