JEDA Annual Report Recognized by S.C. State Library
The South Carolina Jobs-Economic Development Authority (JEDA) was named a winner of a Notable State Documents Award for 2018 by the South Carolina State Library.
JEDA's 2017 annual report was recognized in the Monographs (Physical or Digital) category in the annual judging the State Library holds to call attention to the most informative documents released by state agencies.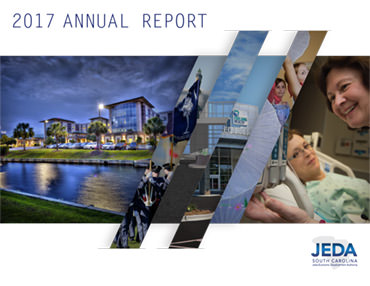 The panel of librarians and state employees judge the publications for their design, writing styles and breadth of information. JEDA's 28-page 2017 report – released in early 2018 – provides a colorful, informative recap of a fiscal year in which the bonding agency helped 19 borrowers access more than $852 million in financing for a wide range of public and private projects that helped create and retain nearly 12,900 jobs.
---
"JEDA has been helping South Carolina businesses, educators and health-care providers finance their goals and dreams since 1983, and we appreciate the State Library for recognizing our creative, informative work in reporting our progress to our stakeholders – the citizens of the Palmetto State."
— Harry A. Huntley, CPA, Executive Director of JEDA
---
The State Library awards recognized a diverse range of print and digital publications, websites and apps, including a notification app from the S.C. Emergency Management Division, the S.C. Department of Education's African American History Calendar website, and the "Forest Trees of South Carolina" manual from the S.C. Forestry Commission.
"I'm pleased we're able to publicly recognize these important publications and websites as notable documents, and it's my hope that all South Carolina state agencies continue to produce high-quality documents such as these."
— State Library Director Leesa Aiken
The full list of 2018 Notable State Library Documents is available at www.statelibrary.sc.gov.